Madrid: Anthony Albanese says a strong and united NATO is in Australia's strategic interests, as he called on democratic nations to stay the course on their support for Ukraine in the face of Russia's "brutal" invasion.
Landing in Madrid on Thursday evening (11pm AEST), the Australian prime minister told journalists that Russian President Vladimir Putin's invasion of its neighbour in late February had broken international law and had major consequences for the world.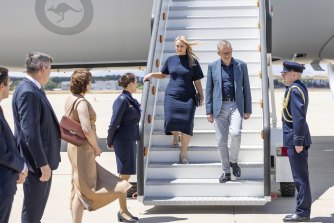 Albanese is among four Asia-Pacific leaders – along with Korea, Japan and New Zealand – invited to the two-day summit of the North Atlantic Alliance in Madrid, which will help shape the military pact's posturing over the coming decade.
His comments coincided with the Group of Seven club of wealthy nations vow on Monday to stand with Ukraine "for as long as it takes", promising to tighten the squeeze on Russia's finances with new sanctions that include a proposal to cap the price of Russian oil.
The announcement came after Ukraine's President Volodymyr Zelensky, addressing G7 leaders at their summit in the Bavarian Alps via a video link, asked for weapons and air defences to gain the upper hand in the war against Russia within months.
Loading
Russia's invasion of Ukraine and the global economic fallout such as soaring energy and food prices has dominated this year's summit of the leaders of Germany, the US, France, Italy, Canada, Japan and Britain.
NATO Secretary-General Jens Stoltenberg said on Monday he expects allies to make clear they consider Russia "as the most significant and direct threat to our security", but that the group's new strategic concept would also address for the first time the security challenges posed by Russia and China in its allies' "southern neighbourhood".
Albanese said Ukraine was "inspiring the world" with is resistance and like-minded countries needed to support them in every possible way.